We're really excited to announce the release of Panacea version 3.5, which is by far our biggest release to date.
One of Panacea's most significant benefits is, being cloud-based, we release updates nearly every week (often more often than that) so we don't normally announce updates.
Version 3.5, however, is something special.  It's based on feedback from hundreds of vet customers from New Zealand, Australia, Fiji, the US and a range of other countries.  It represents thousands of hours or development and testing and it's fair to say that we're really proud of it.
Let's take a brief look at Panacea 3.5 – hopefully you'll get an idea of why we're so excited about it.  Remember you can trial Panacea completely free for up to 30 days and we're always happy to provide obligation-free demos to vets anywhere in the world, just drop us a line.
A New Look
We've completely re-tooled the interface to make it prettier, more intuitive and faster to use.  We're using the latest in material design to make the app cleaner and less cluttered – we hope you like it!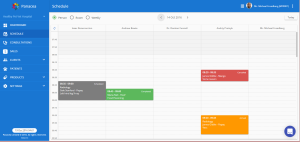 Panacea Remembers Where You Were
We've listened to our customers and, as well as liking cats, you've told us that it's frustrating when Panacea doesn't remember where you were if you navigate away from a screen and then come back.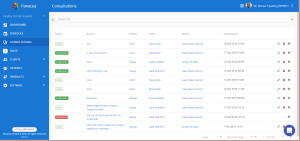 Let's say you're checking the Schedule, for example, to see if you can fit a patient in.  You find the right time in the Schedule, but before creating the appointment you switch to the Consultation screen to view the patient's last consult.
When you switch back to the Schedule you want it to remember where you were right?  Well now you do!
Panacea will also remember what you last searched for and will keep these details on screen so you don't have to repeat the search if you navigate away and back again.
These are just a couple of examples of how Panacea remembers where you were so you don't have to waste time finding the same information over and over.  We've made this simple and unobtrusive, but the technology behind it is truly unique.
Search on Steriods

We've driven our developers crazy with our constant demands to improve search, but boy have they delivered!  They've completely re-written our search engine to make it faster, more responsive and cooler than ever.
The universal search bar appears at the top of every list – give it a try and see for yourself how fast it is now!  As you search the list below is filtered in real time, letting you see results as you type.
Without boring you with all of the technical details, our developers have re-engineered the search engine to obtain results in real time from the server as you type.  This increases speed and reliability and has also allowed us to make search fully context sensitive.
Beautiful, Easy to Use Consultation Screen
Our customers told us that, while they love all of the advanced functionality in Panacea's module, the old consultation wizard was bit clunky and not always appropriate for the types of consults that you're performing.
Working in close cooperation with our customers we've completely re-designed the consultation screen to make it cleaner, less cluttered and easier to use: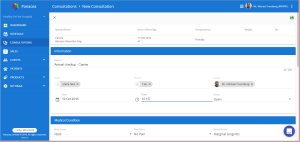 Yeah, we think it's kind of sexy too, but it still includes all of the advanced technology that our customers have come to expect from the Panacea consultation module, including:
Integrated support for AAHA problem and diagnosis terms – incredibly powerful, allows you to instantly view other consultations (for the current patient or others) with the same master problems or diagnoses
Perform sales directly from within the consultation – cut down on double entry of data and never miss another charge!  Panacea allows you to enter items into the consultation sale as the consultation is taking place.
The perfect balance between data integrity and flexibility.  Panacea now allows you to edit patient notes even after the consultation has been completed.  All changes are tracked, however, meaning that data integrity is never compromised.
Advanced consultation history functionality – so good you'll hardly believe your eyes.  Instantly view the consultation history for your patient from within the consult itself.  Flick the switch to only show consultations with one or more master problems that match the current consultation.  Flick another switch to show all consults (for all patients) with these master problems.  So easy.  So fast.  So useful.